Paradise outdoors
The lush Kirjurinluoto Park offers peace and quiet, a break from the hectic everyday life. It has large garden areas, playgrounds, a beach and nature trails, yet it is only a five-minute walk from the market square.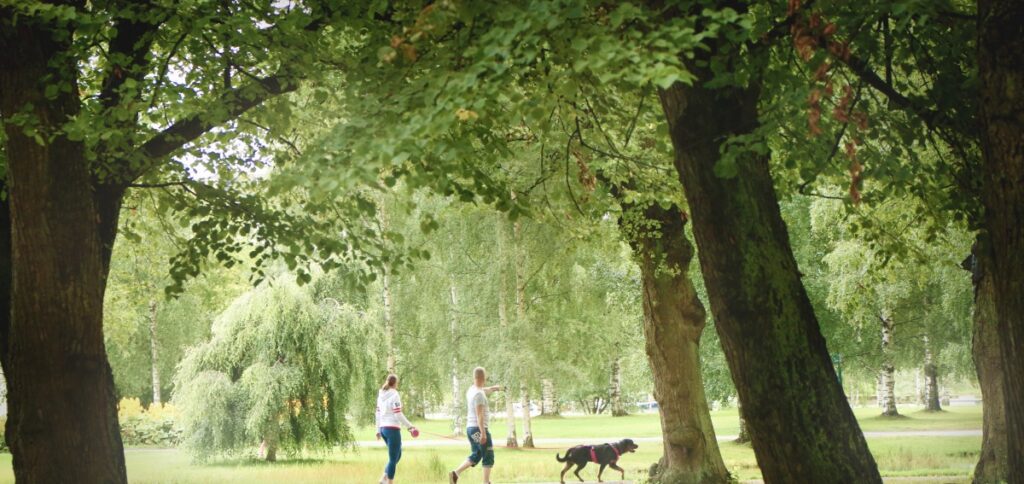 Opposite Eteläranta, in the middle of the Kokemäenjoki River, is Pori's own central park, the Kirjurinluoto Park. It is popular among people of all ages for its outdoor recreation facilities. Outside Pori, the Kirjurinluoto Park is best known as the location of the hugely popular Pori Jazz Festival that is organised every summer. In 1573, the island belonged to the city notary as part of his salary, and it was called Kriivarinluoto, the secretary's island. Later on, the name was changed to Kirjurinluoto, a more Finnish form of the name, and the shortened to Kirjuri by the local people. In the summer, it is an oasis for locals and tourists alike; a relaxing place for both adults and children.
Activities for the whole day
Kirjurinluoto has room for all kinds of activities, from walks and running to swimming, beach games, disc golf and mini golf. Children will be spoiled with choices in the Pelle Hermanni Park and the Traffic Park Vinkkari.
The well looked-after area is great for outdoor activities and picnics. In the summer, there is a barbeque area by the river in Kirjurinluoto Park. In the winter, the barbeque area is at the Kirjurinluoto Arena Ski Land and it is open to groups by prior arrangement. In the summer, the City brings wood for the barbeque every day, but if you go there in the evening or at the weekend, it is best to take your own wood for burning. The barbeque area is always open to all park visitors.
Hanhipuisto park
The Hanhipuisto park is a presentation park for trees, shrubs and flowering plants that grow in the Satakunta region. Some of the more uncommon plants and species are also displayed in the park. The Hanhipuisto park is located on the Hanhiluoto islet, in the environmentally valuable Kokemäenjoki River estuary that you can explore on the natural-state Polsanluoto islet nearby. Part of the nature trail on Polsanluoto is made with duckboards, and in the summer, you can cross the water with a hand-operated ferry.
Routes and trails
There are several walking routes and nature trails, and if you combine them all, they will cover a distance of 8 kilometres. If that seems too much, there is no need to worry, even the shortest route (Kirjurinluodon lenkki, 1.3 km) is packed with experiences.
Find your way
From jogging to playgrounds and from cafés to summer theatre, the map of Kirjurinluoto shows you all the main places to go.